Dear Little T,
I'm stunned to think that a year ago today (as I wrote this) , I was lying in a hospital bed, begging to go see my baby. I expected to go see you after my 10 o'clock blood draw, but it turned out they meant I would see you after the results came in.
This month has happened in huge leaps. You're crawling properly now, and your knees are always red. I'm pretty sure you're landing on your nose a bit, too, because your nose is also always red.
It's colder today than it's been in weeks. I have a cute little "Birthday Boy" onesie all set out for you to wear to "baby school", and it's kind of cold. You also appear to have an ear infection. You've been cranky for a few days, and I was pretty sure something wasn't right, but I thought you had some back teeth coming in. It's not what I hoped for your first birthday, but since your party isn't until Saturday, I hope both you and the weather will improve.
You're "talking" so much more. Now, instead of "Dadada" it's Da, Mamamama (only when mad or upset, of course), and Baba. I'm pretty sure you don't know what any of those mean, but dada and baba are happy sounds, and mamama is what you say when you're upset and crying. My personal favorite, though is "Aaada!" which sounds an awful lot like, "A duck!" That's why rubber duckies is the theme for your birthday party. Plus, you really like chewing on your rubber ducky's head.
It's hard to know what to tell you on your first birthday. There's so, so much. I bugged your father for fully four years before we were "ready" to have you, because I wanted you so badly. Turns out, your daddy was pretty excited, too. When we found out we were having a baby, he started a project:
1000 paper cranes
He started making paper cranes. Having 1000 is supposed to be good luck, and he was making them for you. He made a great mobile out of them, later.
As everyone knows, you arrived far earlier than we had hoped. Even now, I feel a pretty intense amount of guilt about it, even though I'm told by every professional out there that it's not my fault. You are an incredibly little man, and growing up way too fast, in spite of the fact that it's just a little slower than other kids. You're crawling so fast, and pulling up on every surface you get near, no matter how unsteady.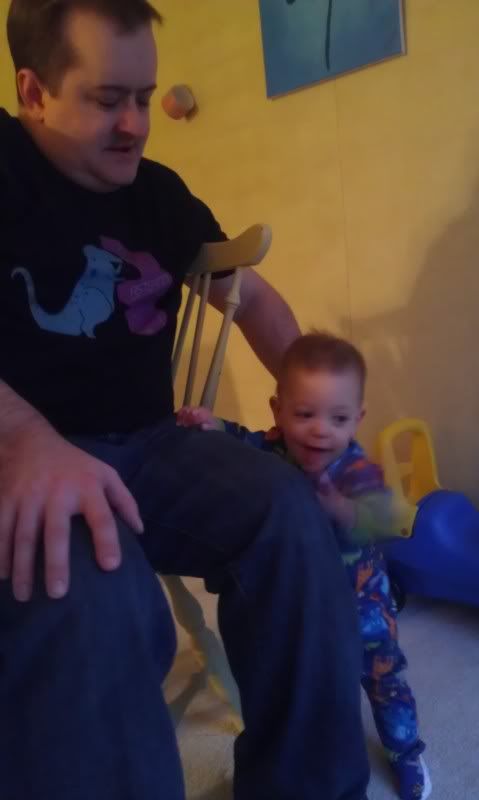 Pulling up on Daddy
I'm so very proud of you. You're the happiest child I have ever seen, and it amazes me every day. You're so funny, too! The other night I found you using the bumper in your crib as a pillow, curled up, holding a round plastic bear-type light toy in your arms. Even at 4am, I got the giggles looking at you.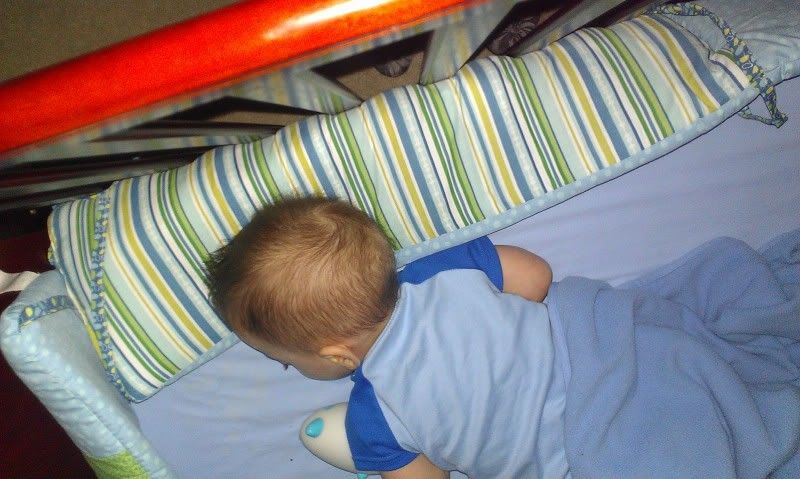 I'm sure someone's going to shout at me for having a bumper in your bed at all, but when you started getting both of your legs stuck in the bars of your bed, and screaming, I decided to put the bumper in. You're extremely good about rolling away from things in your face, so I worry less about those issues these days.
For your birthday party, even though you were only one, I went a little crazy. You won't remember that day, but I will, and I wanted it to be special. Our friends were there and wonderful, and the only way I could have been happier is if you had tried to eat your cake, instead of throwing it on the floor. Still, you were too cute to be mad at:
Photo courtesy of Smilin' Down Photography

You were also super funny. Like your Aunt K as a wee baby on her first birthday, you hated the grass, but you put up with it: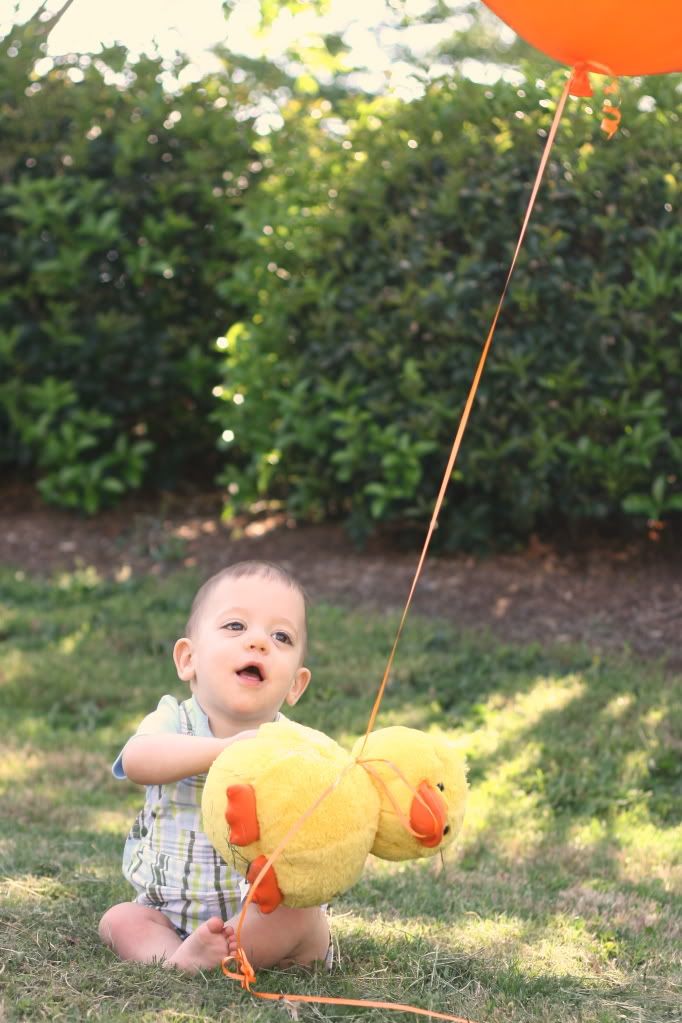 Photo courtesy of Smilin' Down Photography



My favorite thing about you now is how easy it is to make you smile and laugh. Your Daddy laughs, you laugh. We tickle you a little, and you laugh. Daddy comes home, and as soon as you see him, you're crawling for him as fast as your little hands and legs can move, and trying to climb his legs, and laughing.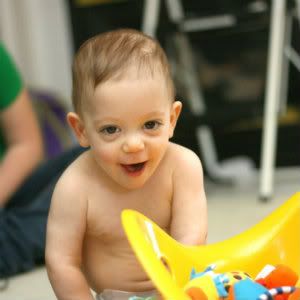 Your constant joy is infectious. I really hope that you keep that forever. One year in our lives, and it seems like life would not be living without you there. The other day I dropped you off at daycare so I could clean and run errands on my day off, and the dog was at the vet, and the house was impossibly quiet. Your dad commented that the house just wasn't right. How very true - our house is no longer right without you.
Love,
Mama